ECONOMY BACKPACK(Bag, Backpack)
ECONOMY BACKPACK(Bag, Backpack)
#BACKPACK A380 - Back Pack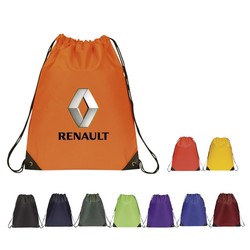 This economy backpack is the perfect solution for athletes, students, and frequent fliers who are always on the move! Its durable, 210 Denier construction is complimented with reinforced corners and a sturdy cord. An excellent item to sell in fitness centers and university bookstores! Measures 14.5" x 18" with a generous 8" x 9" imprint size, so your individual customization will be easily seen wherever wearers of this economy backpack go!
Normal Production Time:
5 Working Days
Product Size:
14-1/2"w x 18"h
Product Weight:
Approx. 26 lbs per 200 pcs Ctn. Size 20 x 17 x 13
Additional Information:
5-7 working days after all approvals
Regular Price includes one color/one location imprint.
Imprint Size: Front and Back: 10"w x 10"h
2nd Color or 2nd location imprint: Please see run charge list, For three or more colors, see Full Color Process information.
Metallic Ink Color: $0.10(g) each. PMS 877(Silver), PMS 872(Gold) Only.
Run ChargeBLACK, BURGUNDY, FOREST GREEN, GOLD, LIME GREEN, NAVY BLUE, ORANGE, PURPLE, RED, ROYAL BLUE
There are 2 versions of this product for you to choose from:
Qty:
50
100
250
500
1,000
2,500
Price:


2.78

(Each)

2.25

(Each)

2.19

(Each)

2.15

(Each)

2.09

(Each)

2.04

(Each)
Setup Charge: $45.00 per Color
Qty:
50
100
250
500
1,000
2,500
Price:


6.95

(Each)

5.55

(Each)

5.25

(Each)

4.55

(Each)

4.25

(Each)

3.99

(Each)
Setup Charge: $45.00 per Location