Announcement Magna-Peel Postcard (8.5x5.25) with 3.5x6 Magnet
Announcement Magna-Peel Postcard (8.5x5.25) with 3.5x6 Magnet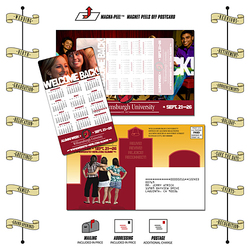 Need a fun and
creative way to tell your friends and family about
your upcoming event1/3

Full-Color Announcement Magna-Peel™
Laminated Post card & Magnets are a special
reminder that will allow your guests enough time
to "Save the Date" for your
memorable day. Magna-Peel™ postcards give
you high impact direct mail (or bulk mail) on a tight
budget. The price includes a full-color 3.5x6
magnet glued to the surface of a full-color 8.5x5.25
laminated postcard, giving you the most
convenient way to get your magnet into your family
and friend''s hands. Perfect for any type of
announcement including weddings, births,
retirement, reunions, greetings, moving /
relocation, grand openings, special events,
volunteer work, season's greetings, sport
recognition, party announcements, save the date,
etc.

This product does not qualify for machinable rates.

Mailing Forms are included in the
template file.


---

9MKT32
Normal Production Time:
7 Working Days
Product Size:
8.5 in. x 5.25 in.
Product Weight:
28 lbs per 400 magna peels
Made In:
United States
Additional Information:
Price includes printing in full-color (four color process) on both sides of postcard and front of magnet, addressing, adhering of magnet to postcard. Metallic or fluorescent colors cannot be printed in full-color.
Postage is extra. Postcards are non-machinable, not automation compatible mail.
Qty:
250
500
1,000
2,500
5,000
10,000
25,000
50,000
Price:


1.76

(Each)

1.07

(Each)

0.96

(Each)

0.79

(Each)

0.65

(Each)

0.58

(Each)

0.45

(Each)

0.40

(Each)